The Pilot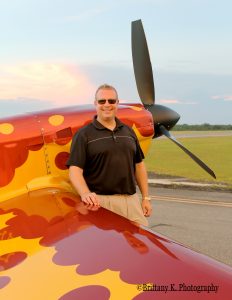 Grant Nielsen grew up in an aviation loving family. His father was a pilot and his brother was a career Air Force officer.  After taking his first aerobatic ride, Grant was "bitten by the bug." He started taking flying lessons within a month, training in airplanes and gliders concurrently.  After getting his private rating in both classes of aircraft, he knew he wanted to learn more and become a better pilot.  Grant joined a club in Minneapolis that had a Decathlon aerobatic training airplane.
While learning aerobatics Grant continued to train in other areas and received his Instrument ratings in single and multi engine planes, his Commercial rating in gliders and airplanes, Instructor ratings in single engine, multi engine, and instrument flight, Airline Transport Pilot rating,  Flight Engineer rating for turbojet airplanes, and Pilot in Command (Captain) Type Ratings for the Boeing 757, 767 and Airbus 318, 319, 320 and 321 families of airplanes.  In 2000 Grant changed careers from design and engineering work to aviation.  He now flies Airbus aircraft for a United States Legacy airline.
Grant's aerobatic background started with a lot of great instruction in the Decathlon.  After gaining some proficiency, he began flying aerobatic competitions.  Nothing shrinks your ego and grows your skill like having 7 judges pick apart every detail of your flying.  Eventually Grant also started giving aerobatic instruction, and learned more from his students than he thought possible. After 14 years of competition, Grant's mentors thought he was ready to dip a toe into the air show water in 2012.  Flying air shows has been a lifelong dream for Grant and he feels incredibly blessed to be able to accomplish it. After over 4500 hours of flight time, he still looks forward to every flight.
Some of the maneuvers you will see include the Hammerhead, the Torque Roll, the Cuban 8, the Half Cuban 8, the Shark's Tooth, and of course Loops and Rolls.
The Announcer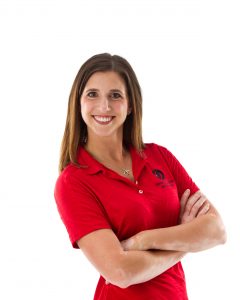 Brittany Nielsen began working as an Airshow Announcer with Grant Nielsen Airshows in 2015.  Her high energy and enthusiasm have audiences on the edge of their seats as she takes them into the cockpit and shares detailed information about the aircraft and the pilots.  Brittany loves to educate the audiences and inspire them to appreciate the show and learn more about the spirit of flight and the exhilaration of aerobatics. After the 2015 Airshow Season, Brittany began receiving requests to announce for airshows along with announcing for Grant Nielsen and "Bubbles".  Brittany was excited to expand her Airshow announcing opportunities and continues to book more shows!
Brittany is currently working to complete her private pilot's license and continue her aviation aspirations.  She is truly an avid aviation enthusiast and loves being able to share her passion with others.  When she is not surrounded by airplanes and airshows, Brittany works as the Campus Director at UW-Eau Claire – Barron County.  She is also in the final stages of completing her Doctorate in Education.  Brittany is the proud wife of Grant and loves being able to share the passion of aviation and airshows.
The Plane
Bubbles is the name we've given the CAP 232 due to it's unique paint scheme.  The CAP's carbon fiber wing is incredibly strong allowing regular stress to both positive and negative 10Gs.  The wing's stiffness allows full span ailerons that will roll Bubbles up to 420 degrees per second, completely blurring the horizon.  Even with that strength, the plane is very light.  With only 1260 pounds, the 300 horsepower engine easily pulls the plane skyward at up to 3500 feet per minute.  While the numbers are impressive at the top end, equally important are the slow speed characteristics.  With a huge rudder and elevator placed directly in the prop wash, the controllability at and below stall speed is unprecedented.
The Past Plane
Pitts Special
All single-seat Pitts Specials are variations on the basic design from 1944.
Pitts produced limited numbers of aircraft during the 1940s and 1950s. The Pitts Special became the standard by which all other aerobatic aircraft were judged. After a number of homebuilt aircraft were produced from rough hand-drawn plans produced by Pitts, more professionally drawn plans went on sale in 1962. While many homebuilt aircraft were built in the 1960s, earning the S1 a reputation as an excellent aerobatic aircraft, Pitts worked on the design of a two-seat aerobatic trainer version, the S-2, which first flew in 1967 and gained its type certificate in 1971. Factory-built aircraft produced by the Aerotek company at Afton, Wyoming were joined in production by the single-seat S-1S in 1973.
In 1972, the US Aerobatic Team won the World Championships flying only Pitts biplanes.
Grant's Pitts was built in 1994 and had several performance upgrades including a constant speed MT propeller, low drag aluminum landing gear, and a 210 horsepower engine.
Testimonies
How can we ever thank you enough for participating in the MSPA airshow? You both made it a success. Grant you are always so enjoyable to watch, everyone loved it! Brittany, you are such a delight and a gem! You two have found your nitch, Run with it.

Mary, Minnesota Seaplane Pilots Association Airshow
I have gotten continual comments about you (Brittany Nielsen). You have such a talent and are such a positive person. Everybody gravitates to you. I wanted you to know.

Steve, Clarinda Fly-in & Airshow (Clarinda, IA)
I have participated in many shows with Brittany, and she is a delight to work with. In fact, my earlier experiences with her were at events where she announced Grant Nielsen's routine. At one show, the announcer wasn't accustomed to that type of venue, and myself and other performers asked if she could narrate for us. She didn't hesitate, graciously stepped right in, and did a terrific job. She did so in such a kind way where she "teamed up" with that announcer so he didn't feel put out.

She has become a regular at many shows I've been at during the last few years. Her warm, upbeat style and first hand knowledge of the industry make her a true asset. Also, she is electronically savvy; I didn't have my music at hand at a show, she said no problem and got out her iPhone and problem solved.

She has that unique ability to pump up the crowd, and in doing so, pumps up the performance. She keeps things rolling during lulls in the action. She is a real asset for the promoter, vendor and performer, and I feel she would be great for your Airshow.

Susan Dacy, Stearman Pilot & Airshow Performer